Academic credentials
During his training as a specialist, he practiced Male and Female Genitourinary Reconstructive Surgery; Urological Laparoscopy, and Cancer.
The doctor is committed to continuous learning to successfully solve the most complicated cases and improve his patients' quality of life.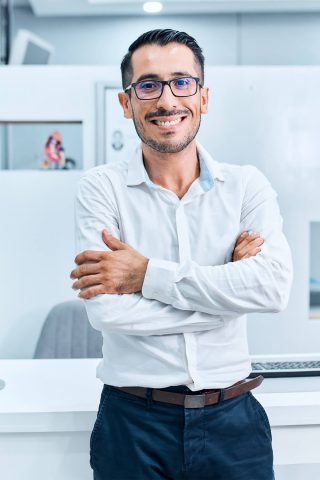 Profesional education
2017
Specialty
Urology, General Hospital of Mexico. License: 10336508.
2013
General Surgeon
From the University Hospital of Puebla, México.
2011
Bachelor's Degree
Surgeon and Obstetrician. Faculty of Medicine, Centro Universitario del Sur, University of Guadalajara, México. License: 7406002.
---
Accreditation
Mexican Council of Urology, CONAMEU, No. 1283
High Specialty in Medicine, Endoscopic and Robotic Surgery in Urology, UNAM and Hospital General de México
Master in e-Health, Digital Health Management, ESDEN by Universidad Santander
A day in the life of Jonathan
Dr. Jonathan nurtures his patients' connection, giving his time at each visit. The trust he builds with them is vital. He has a great passion for everything he does, his profession, his zest for life, his doggie Gaia, sports activity, and his love for the sea.